The Custom Keeper: It's how all the cool kids curate their creative collections.
It all started with the Custom Keeper, our refillable travelers-style notebook covers made from retired vinyl billboards, signs and banners. From there we added a variety of inserts, accessories, gift items, tote bags and more!
Many of our products are one-of-a-kind and they are all individually handmade in Fayetteville, Arkansas.
We can custom make items for you and many of our products are available wholesale.
See our collection of vinyl products and accessories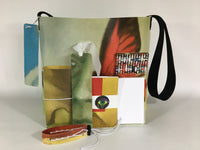 Doodle Stencils
My eclectic hand drawn stencils are a must have for your collection. I have focal images, background patterns and my favorite circle shapes that will add just the right touch to your mixed media, paper crafting and scrapbooking projects.
My stencils are available at A Colorful Life Designs. Be sure to check out all the other fantastic stencils while you're there!
Shop for stencils at A colorful life designs